I passed the Certified Wireless Network Administrator certification exam on Dec 19th, 2019!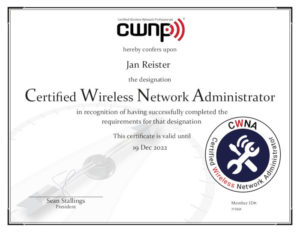 It's been a long journey starting 18 months ago, when I moved from network security to wireless networking and I realized that everything in wifi is totally upside-down from the wired world.
I dived into my new job, and on the sideline studied everything I could lay my hands on, starting with the CWNA Study Guide by Coleman and Westcott and published by Sybex. This book goes beyond the task of exam preparation and is a reference work to keep always on the desk.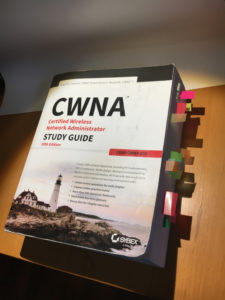 The study guide has a list of blogs, conferences and Twitter handles that is a good starting point for following the wifi universe. I recommend the WLPC videos from the WLAN professional community, great for technical drill-down and (to non-native english speakers) for a taste of english technical terms.
CWNA-107 is the current certification exam version. It was updated from CWNA-106 around 2017 and it may be overhauled in 2020. You can check the official CWNP site for exam details, costs and study materials.
There was also a copy of the CWNA-107 Official Study Guide published by CertiTrek laying around in the office, but did not read it. My colleague (and now fellow CWNA) Claudio Lori liked that it's condensed, more exam-focused.
While preparing the exam I kept working on my employer's infrastructure: It's a privilege I could apply new knowledge to real-world problems and make practical sense of otherwise abstract issues.
I was almost ready for taking the exam when my employer booked me and my colleague to a CWNA training class by Devin Akin (CWNE #1) in Milano. It was a fantastic, challenging week that defined me professionally, an eye-opener experience that motivated me to pursue the CWNP path.
After organizing my study notes and going over the Exam Objectives document for the last time, I purchased the Practice Test and the Exam Voucher on the CWNP site, then eventually booked a test date in Milano.
The practice test is completely optional. It has 2 banks of 60 questions that closely match the quality of the official test. After completing the 2 banks with a high score I was fairly confident that I could pass the real exam.
Still, when the exam date came and I was sitting at the testing center, I was a little nervous before clicking the last and final submit button, and immensely relieved when I was instantly presented with the exam results and the pass score. Yeah!
Now there are lots of plans for the future: more on that in the next posts.