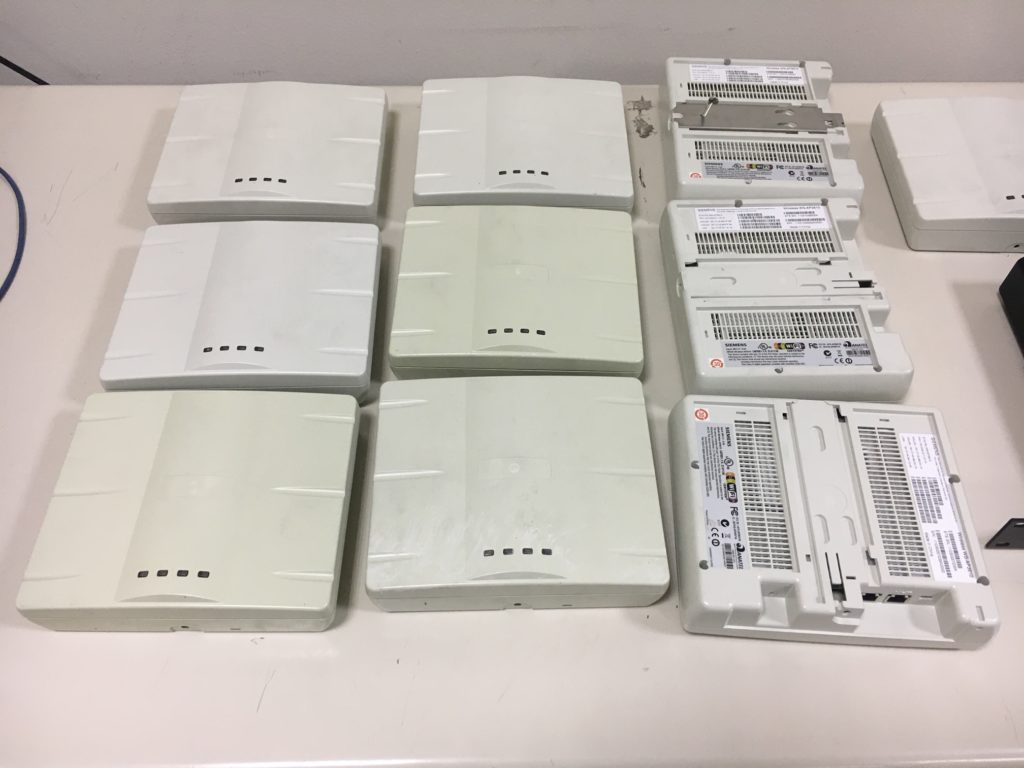 My colleague and I are finally completing the retirement of a legacy 802.11n deployment based on Enterasys AP3600s.
It was our university first modern wi-fi network back in 2010, based on modern hardware and latest technology (802.11n was released in 2009). In the following years a few hundred AP3600s were installed on the campus and provided the bulk of our WLAN access.
The AP3600 were manufactured by Siemens and branded by Enterasys (now Extreme Networks) as part of their controlled-based HiPath solution (now IdentiFi). Maintenance and software support ended in 2017.
The AP3600 series was the first 802.11abgn indoor access point in the industry to support 3×3 MIMO 11n performance using existing 802.3af power investments. This access point is designed to operate in enterprise environments that require always-on connectivity. The AP3600 Series is equally adept at serving high-bandwidth video applications as well as low-latency voice applications. The AP3610 comes with an integrated six antenna array for ease of installation.The AP3600 platform supports dynamic radio management, spectrum analysis,self-forming and self-healing meshing, security, role-based authentication,authorization, and access control. The 3×3:2 platform is capable of delivering600Mbps over-the-air-performance and up to 50,000 packets per second on thewire port.

(from the manufacturer datasheet, download it below)
In the last years the APs ran on a couple of old C5110 controllers kept on the appropriated legacy firmware release. Many APs were still in service in 2019, the last few ones are being removed this very days.
Why retire a deployment that has proven reliable and well matched to our user base, which is 50% 802.11n?
From the user perspective, the devices have changed: laptops are cheaper and lighter, tablets are now common and there is a smartphone on every person. Classrooms, lecture halls are packed with wi-fi devices. The higher user density means we must use every advancement in 802.11 technology to meet new capacity and performance demands.
User expectations have shifted too. While in the early days only faculty and few students owned laptops, now students are required to have their own laptop and to sign-in to class with a smartphone app. Applications do streaming and live collaboration. Students expect Wi-Fi to be ubiquitous and this impacts enrollment choices as well as university rankings.
This is in fact a change in coverage and capacity requirement, where the design has to follow the changes in the user behavior and expectations. But as the user perspective evolved, so did the design perspective of network engineers.
Back in 2010 the design techniques in my campus aimed at simple coverage, making the most of every installed AP. Corridor design was common, with APs placed in the hallway in order to cover offices at both sides even as it is an inefficient design scheme.
Deployments were sometimes inconsistent, the installers often just put the APs over the ceiling (bad practice), documentation was sketchy. Modern tools for predictive design and post install validation were yet to be had. Although CWNA certification dates back to the early 2000s, knowledge and appreciation of it had not reached Italy in early 2010s. The first CWNA in our team was in 2017.
Fortunately, management's support of WLAN's role in our campus networking evolved during the decade, we are now into the 5th generation of Extreme Networks wireless technology.
Wrapping up, a well designed WLAN deployment can last 10 years, but during this time many things will change! It will require continuous evolution and upgrade to keep up. Looking back at how existing WLAN were built gives us perspective on our profession.